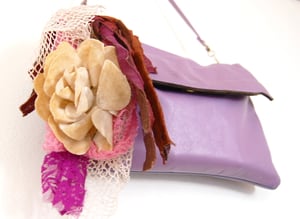 $

295.99 - On Sale
VIEW MORE PHOTOS HERE:
http://www.flickr.com/photos/62732965@N04/sets/72157629778787756/
Lilac & Plum
Purple Vintage Clutch Purse w. handcrafted flower adornment.
Smooth, Sleek & Sophisticated.
Hand-picked while vintage purchasing in Paris.
A dash of vintage reconstruction adds to the grace & style of this bag!
This piece speaks for itself! Looks sleek, yet very roomy with zipper pocket pouch on inside
Strap comes off or on. Beautiful details & stitching.
Flower Adornment was constructed from various vintage fabrics along with mixtures of other handmade pieces
Measurements:
Length: 9.5 inches
Height: 7 inches
Strap Length: 35 inches
ONE OF A KIND PIECE
contact for more details
info@purplevintagespaceprincess.com